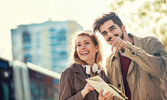 The spring brings blossoming flowers, warm weather, and new beginnings. This can be inspiring and soothing, prompting many people to seek the solace of a nice vacation. Since spring starts in March, it can be a prime time for taking that vacation. However, in the early spring, some destinations are better to visit than others. Below is a list of three hot vacation spots to visit this spring.
Wildlife on the Galápagos Islands
Truthfully, the Galápagos Islands are an interesting, beautiful place to visit any time. But the islands are especially active and attractive in spring. This is the time when many of the islands' interesting wildlife emerge and provide plenty of sights and entertainment to visitors. For example, seals can be seen hanging out on the beach, and March is nesting season for iguanas, some bird species, green turtles and more. The season is notoriously wet, but there will still be some sunny days, meaning you can still bask on one of the many beautiful beaches.
Flora in Asheville, North Carolina
During the spring, Asheville, NC is one of the most beautiful cities in the United States. Here, flowers begin to bloom in the early spring, providing awesome flora. A spring vacation in Asheville can also lead you to awesome sites, such as the Biltmore Estate or the North Carolina Arboretum. In late March, you can enjoy the atmosphere at the Biltmore Blooms (celebrated on March 20), hosted by the Biltmore Estate or visit the arboretum at Pisgah National Park.
The Remarkable Sights of London
London is heralded as one of the greatest cities in the world, with plenty of sights, sounds and entertainment. The city is particularly lively during the spring when the rain stops, and the days grow warmer. In fact, London offers perhaps the best springtime attractions, making it one of the top places to visit during the season. Just don't forget your updated passport, which includes an updated photo. For Edmonton residents, PhotoStop is a great photo studio for passports.
When the weather changes, so do the city's activities. Outdoor markets, parks, famous streets, carnivals and more open and/or become livelier in the early spring. March and April are the best times to visit Hyde Park & Kensington Market, Notting Hill, Buckingham Palace, Portobello Road Market, Piccadilly Circus, Tower Bridge and so much more.
Visit us at PhotoStop to satisfy all your passport photo needs. Contact us for more information: 780-421-7482.