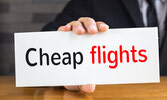 No matter the time of year, a vacation always sounds like a nice idea. However, if you're going to fly, the cost of the airfare can quickly turn that nice idea into an impossible dream. Flying can be expensive, but only if you allow it to be. Cheap flights are a dime a dozen, but you must know where to look and how to look. For example, you could check several booking websites, travel at non-peak times or alter your departure time to help you find the best rates possible. With a bit of time, effort and compromise, there's a great chance you will be able to fly to your vacation destination while saving some money.
Shop Around
The key to finding a great deal on anything is shopping around, and the "shop around" theory certainly applies to air travel. Shopping at major booking websites will give you a general idea of the typical rates and restrictions for your itinerary, as well as what airlines fly your itinerary. The information you find on these sites will direct you to the airlines' websites, which in turn will help compare and find the cheapest rates. In fact, some airlines guarantee the lowest fares can be found on their sites. Additionally, search for any promotions or sales on flights to your destination. You could also wait for the best rates from the major booking sites by signing up for text or email alerts whenever there's a rate drop.
Track Flight Rates and Buy at the Right Time
Tracking rates is a great way to get the cheapest flight, but there are no guidelines for when to stop tracking and make your purchase. However, there are some booking sites that predict the best time to buy based on whether fares are expected to rise or fall. To get the best rate, you should also keep track of promotions and sales. Most ticket sales launch on Tuesdays, so plan to make you purchase as early as possible on this day.
Book Your Flight Early
It's always more expensive to book a flight during peak travel seasons. Try to plan your vacation outside of holidays and peak vacation times during the summer. Plan to travel mid-week, as increased numbers of travellers cause rates to increase later in the week and on the weekend. Additionally, when travelling domestically, book your flight at least two weeks in advance. On the other hand, when travelling internationally, book your flight at least three to six months in advance. Not only will this help you find the lowest rates, it'll also give you time to get all your documents in order.
You'll have time to plan your vacation itinerary, get a passport or update your current one. Most likely, your passport photo will need to be updated. For the best results, visit a photo studio for passport photos, like PhotoStop.