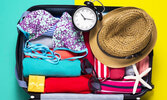 As more and more Canadians get ready to head off to destinations where the weather is warmer, we thought it was a good time to share some tips about baggage. Packing for your vacation isn't as easy as filling your suitcase with anything you think might need while you're away. Security regulations, cost and individual airline requirements should all be taken into consideration before you pack.
Security Restrictions
There's nothing worse than getting to security at the airport, only to discover that you can't bring one of your possessions on board the plane.
Items Not Allowed Past Security
liquids, aerosols and gels in amounts greater than 100 mL (baby food/drink and medications are permitted)
weapons like knives or guns
items that could be used as a weapon, such as a bat
Prohibited Items
Basically, anything that is illegal in Canada is not permitted anywhere in the airport.
Checked Baggage Fees
In the not-so-distant past, most airlines introduced checked baggage fees, meaning that if you wished to bring anything other than the permitted carry-on items, you'd have to pay for it. Every airline has different fees for checked baggage, but most start at about $25 for the first bag and the price increases for each additional piece of luggage, with some airlines charging as much as $200 for the third piece of luggage. And, remember, if you're changing planes/airlines at any point in your trip, you will need to factor in the baggage fees for both carriers.
Airline Requirements
Just like every airline charges different fees for checked baggage, most have different requirements for the luggage they'll allow you to check or take on board. Because each airline has different rules, it's best to contact the one with which you will be flying. That said, most allow you to take one small bag and a personal item, like a laptop or a purse, on board, while maximum weight for most checked luggage is about 50 lbs and anything over that is considered oversized.
Remember, for the most up to date information, contact your airline to find out about their individual requirements. One of the keys to a great trip is to avoid mishaps, and knowing what to pack will help streamline things at the airport.
Wondering where to get passport photos before you leave? There are many places to get passport photos in and around Edmonton, but only PhotoStop has the experience and equipment necessary to guarantee your photos are approved - the first time! Visit us today!