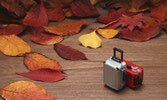 Summer vacations are nice, but fall vacations are nicer. Fall is truly the best season for travel and vacation with its mild weather, beauty and ability to invoke feelings of serenity and relaxation. However, there's more to the story of why fall is the best season for travel. For example, popular vacation spots are less crowded, travel rates decrease and high-demand attractions and accommodations are easier to book. Below is more information on why travelling during the fall can be so beneficial.
Mild Weather and Natural Beauty
If you're travelling somewhere in North America or Europe during the fall, you can expect the weather to be mild and the nature to be abundant. Mild weather is the perfect setting for a relaxing vacation, as you won't need to contend with the sweltering heat or biting cold. Plus, there's little more beautiful than the colours of fall. The leaves on the trees change colours, providing a romantic setting and beautiful photo opportunities.
Popular Spots Are Less Crowded
Fall is a great time to travel, but it's also the least popular time to travel. This means popular vacation spots are less crowded during the season. So, fewer crowds at popular attractions, discounted rates at fun spots and more room to explore. Less crowding also means you'll be able to discover more and not feel rushed or overwhelmed.
Travel Rates Decrease
Early fall isn't a peak travel season, so generally airfare and hotel rates drop during this time. Airlines and hotels are also more apt to offer discounts and special travel packages. In fact, there's an influx of travel discounts before the infamous pre-holiday rate hikes. These discounts make it even more desirable and beneficial to travel during the fall, especially if you're travelling internationally. However, don't forget that you'll need a passport. Fortunately, there will be shorter lines for those during the fall, as well. But, if you want to get out of town quickly, be sure to search for "how fast can you get a Canadian passport?" before doing anything else.
High-Demand Attractions and Accommodations are Easier to Book
Fewer travellers means dramatically decreased demand for high-demand attractions and hotel rooms. However, not only will it be easier to get into these places, it will also be less expensive. During the fall, hotels and certain attractions offer lower rates and packages. Even popular resorts and cruise lines offer lower prices during the season.
If you're getting ready to set off on a fall vacation and need to update your passport, be sure to visit PhotoStop for your passport photo.